Toledo NAACP Freedom Fund Banquet Celebrates 103 Years of Service
By Tricia Hall
Sojourner Truth's Reporter
The Stranahan Theater and Great Hall event room was filled as members and officers of the Toledo Unit NAACP celebrated 103 years of service in Toledo with city residents, supporters and elected officials. "Defeat Hate, Vote," served as the banquet theme, which was held on Saturday, October 27, 2018.
A live band, Organized K-OS, serenaded guests as they were escorted to their tables, then the banquet officially opened with a prayer delivered by Rev. Perry Harris III, pastor of United Vision Baptist Church and Toledo NAACP Toledo Unit secretary. "Father we love you and honor you. We thank you for the work done by the NAACP, the local branch of NAACP, and the work that still needs to be done."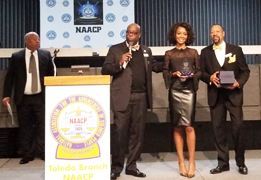 Councilman Tyrone Riley, Micheal Alexander, Zuri Hall, Ray Wood
Program attendees then sang the Negro National Anthem before Toledo NAACP President Ray Wood addressed the audience. "We are assembled here again today, and we don't take your attendance here or support in general for granted. We appreciate your support, we as the Toledo Branch of NAACP. I personally want to thank our board members, who are full time volunteers. They have jobs, families and even churches. I want each of them to take a bow," explained Wood.
Kristian Brown of ABC TV13 Toledo served as the mistress of ceremonies. The featured speaker was Toledo native, Emmy award winning TV personality and actress, Zuri Hall.
"I've always loved the freedom fund banquet held in Toledo, because it aims to support freedom. I always wanted to be free to live my own life, by my own terms. I began to learn that lesson here in Toledo and once I moved on. Even in dark times, I reminded myself that people from Toledo invested in me," shared Zuri Hall.
The 2018 Freedom Fund honorees were: Crystal Ellis, PhD, former principal and City of Toledo employee; Tina Butts, owner of T-Bonds; Rev. John Roberts, DMin, pastor of Indiana Avenue Missionary Baptist Church; David Fleetwood, business manager of Laborer's International Union of North America.
City of Toledo Councilman Tyrone Riley recognized the Crispus Attucks Essay Contest Award Winners: Dakota Bonds, Kiara Byrd, Eunique Cotton, Brysen Davis, Esperanza Duran, Lacey Eze, Andrea Gonzales, Tamia Haythorne, Madeline Militello, Marleigh Mitchell, Nicole Stone, Kaleb Youn, and Alicia Woods.
The Toledo NAACP meets every second Tuesday. Individuals interested in membership or joining one of the committees: ACT-SO, Criminal Justice, Economic Development, Legal Redress, Membership, WIN, Health, Religious Affairs, Political Action, also Youth and Young Adults should visit their website www.naacptoledo.org