<![if !vml]>
<![endif]>
---
September 14
Eleanor Kahle Senior Center 2019 Fall Bazaar: 9 am to 3 pm; Crafts, gifts,
bake sale; Hosted by the Happy Hookers Crochet/Knitting Club: 419-476-2745
Braden UMC Total Wellness Health Fair: 9 am to 4 pm; Screenings for diabetes,
blood pressure, prostate cancer; Education about nutrition, insurance, CPR,
cyber and fire safety
St. Mark's MBC Pre-Women's Day Workshop: 9 am; "Praying with Faith and
Hope Makes All Things Possible;" Featuring discussion of "Fen" by Priscilla
Shirer: 419-350-8150 or 419-266-1291
September 14-15
St. Paul MBC Women's Day Weekend: "We Are Women of Faith, Value and
Vision;" Saturday – lunch at 11, guest speaker Sis El'Freda Agboka of Rochester
Hills, MI; Sunday – 10:45 am service – speaker Elder Teresa McBee of
Family Baptist: 419-246-2886
September 15
The Indiana Avenue MBC Annual Women's Day on Sunday: Sunday School
9:30 a.m. Morning worship 10:45 am; Women's Day Speaker Tammy Harris;
Afternoon Musical of Women Soloists and Groups 3:30 pm; "Christian Women
Growing Together in Grace and the Knowledge of God"
October 23
UT's "Tricks Treats & Dunks:" 6 to 8 pm; Savage Arena; Trick or treat for kids
from 6 to 7 pm; Costume contest at 7; Rockets players at various games
---
---
---
Washington D.C. Trip
Fascinating Washington,D.C.
Beautiful and powerful D. C.
5 days, 4 nights
Sept 27 – Oct. 1, 2019
$550.00 ppd, $75.00 deposit needed
Includes: 4 breakfasts and 4 dinners
Tours: Museum of African History &
Culture, National Archives, Capital,
Martin Luther King Memorial, World
War II monument, and many more.
Powell & White Elegant Tours
Ophelia Powell 419-536-1519 or
248-890-8345 cell or
Cathy Woodward 419-917-2695
---
---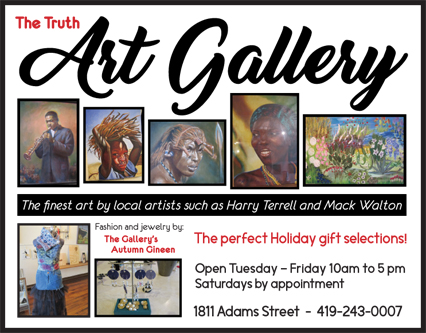 ---
---
---