Students at TPS Barber Academy Are Offering Free Hair Cuts
Sojourner's Truth Staff
Youngsters in the preschool to 12th grade classes aren't the only students the Toledo Public Schools are preparing for bigger things in life. Adult students are also a part of the program – the TPS Adult Education Program.
TPS offers adults the opportunity to study in its Barber Academy and its Toledo School of Practical Nursing.
The Barber Academy is an 1,800 hour training course, the only one in northwest Ohio, and instructs students on barber shop management, shampoos and hair topics, history of barbering, cosmetic chemistry, razor cuts, clipper cuts, skin and scalp diseases, hair cutting, among many topics.
The academy offers students the opportunity to become licensed by the State of Ohio upon completion of the program and also a chance to go into business for themselves, possibly by opening their own shops down the line.


Larry Warniment, Director, Adult Education, and Zonta Moore, Barber Academy Instructor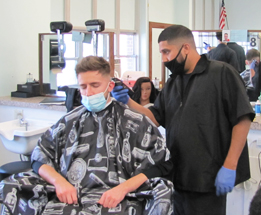 Student Ruben Martinez cutting
Jacob Harris' hair
However, during this pandemic, the students are not getting the chance to cut hair as much as they need to so the Academy is dropping its usual fees and offering free cuts to those 10 years and older. The usual precautions are being observed – masks, social distancing, hand washing – for the safety of students and customers
The school, at 3281 – site of the former Devilbiss School – is open from 9:00 a.m. to 4:00 p.m. Call 419-617-8700 for more information.