St. Paul's Annual Women's Day Celebration By Tricia Hall
Sojourner's Truth Reporter
"We are Women of Faith, Value and Vision" was the theme for this year's St. Paul Missionary Baptist Church's Women's Day, which, as usual, was commemorated over an entire weekend – starting with the Women's Day Luncheon on Saturday, September 14. The theme was inspired from Biblical scripture I Corinthians 15:10.
This year's luncheon speaker was Sister El'Freda Agboka, who came down from the Detroit area to deliver her message of faith, value and vision.
Saturday's program opened with Opal Allen's worship leader and a scripture reading by Dorothy McDougal. Soloist Dorothy Gray of Search-Lite Community Church offered The Lord's Prayer and Dawn Scotland offered words of welcome, followed by soloist Deborah Gardner's song of Praise.
Agboka, a native of Starkville, Mississippi and graduate of Louisiana State University, is a motivational speaker who was a longtime employee of General Motors specializing in communications. She currently works with several nonprofit organizations one of which focuses on touching, encouraging and assisting women in all phases of their lives and another that reaches out to assist victims of human trafficking.
Agboka, in delivering the message of faith, value and vision, spoke of the need to put God's will into action. "It's one thing to be 'hearers' of God's will," she said. "We have to be 'doers' of God's will. Once you believe that then you understand your value."
Agboka encouraged the congregation to "have vision from what God says – not just anyone's vision but God's vision – then the impossible can take place." The following day, Sunday, the St. Paul MBC sanctuary was filled in celebration of the annual Women's Day service.
"I want to thank my pastor and of course the women of St. Paul. We are who we are by the grace of God. Our luncheon yesterday was fabulous, and we have so many talented women at this church. To God be the glory," explained Daisy Fisher, Women's Day chairperson.

Sunday's celebration began with a joint Sunday school led by Rev. Marcia Dinkins, and then morning service led by Minister Barbie Harrison of Third Baptist Church. "I know we'll have a good time today. The theme today is truly a message," shared Minister Harrison.
The women's day Sunday service opened with a devotional service, then Deborah Gardner led the Lord's Prayer, and Pamela Clark led the Women's Day litany. Elaine Vonner officially welcomed the service guests before the Women's Day Choir provided selections. "We all have gifts. God said to let your light shine. Today is Women's Day, so women of St. Paul let your light shine. We are blessed to have our guests here with us today. We welcome you in the name of Jesus Christ," said Vonner.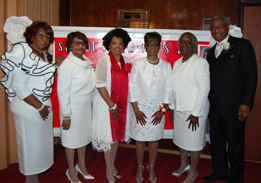 Minister Barbie Harrison, Yvonne Gayle, Daisy Fisher, Elder Teresa McBee, First Lady Linnie Willis, Pastor James Willis, Sr.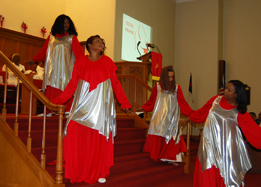 The service continued with a scripture reading by Barbara Ifeduba, altar call conducted by Rev. Marcia Dinkins, praise dance by Total Praise of St. Paul, memorial service led by Mary Liggins, solo by Erika Warner Ragland of Perfecting Church Toledo, official introduction of the speaker by First Lady Linnie Willis and featured speaker Elder Teresa McBee of Family Baptist Church.
McBee is the co-pastor and associate minister of Family Baptist Church in Toledo. She was baptized at Calvary Baptist Church, earned a Bachelor of Science degree in Paralegal Studies from University of Toledo and master's degree in organizational leadership from Lourdes University. She married her husband, Charles, in 1980 and is the mother of two children.
"A woman of faith must have faith to deal with situations today. A woman of faith must see what is beyond this moment in time and what is occurring in the present moment. Faith allows me to see that God loves me and that I must hold on," explained Elder McBee.
Pastor James Willis closed out the service by delivering words of gratitude. "I am happy. If you are a pastor and have people who are capable of leading, trust them. Elder McBee touched my soul, we appreciated the word that was delivered this morning. There is so much that happens in this World, so we appreciate the word that was delivered this morning."
The Women's Day booklet patrons include: Jan Scotland of State Farm, The C. Brown Funeral Home, Inc. & Preneed Center, City of Toledo Councilman Gary Johnson, State Representative Paula Hicks-Hudson, A Rainbow's Treasurer Children & Preschool, Hairstylist Misha Swilling, Moore's Trucking, Lincoln Cleaners, ABC Health Care Inc., St. Paul Senior Citizens Project, John McKissick Housing Complex, Jerusalem Missionary Baptist Church, Mount Ararat Baptist Church, Mt. Nebo Baptist Church, Cass Road Baptist Church, Christian Board of Education, American Baptist Women, American Baptist Men, Toledo chapter of Top Ladies of Distinction, Inc, C. Winfield Accounting & Tax Services; St. Paul MBC ministries: Deacons, Choir, Deaconess, and Trustees; and over a dozen individual patrons.