The Girl Scouts of Western Ohio's 2018 Women of Distinction Award Recipients!
On October 25, th Girl Scouts of Western Ohio honored women who have made significant contributions in one or more key focus areas for success. Included were: Diana Patton, motivational speaker and author, in the area of healthy living; Barbara Petee, ProMedica, for leadership; Rhonda Sewell, Toledo Lucas County Public Library, for community responsibility; Rene Smith, Fostoria Economic Development Corporation, for financial empowerment and Adrienne Taylor, SSOE, for STEM.
Rhonda Sewell
Rhonda B. Sewell is manager, External and Governmental Affair at the Toledo Lucas County Public Library, where she initially served as the system's Media Relations Coordinator and then as Governmental Affairs and Media Strategist. She joined the Toledo Library system after a noted 18-year career as a journalist at The Blade, the daily newspaper in Toledo, OH.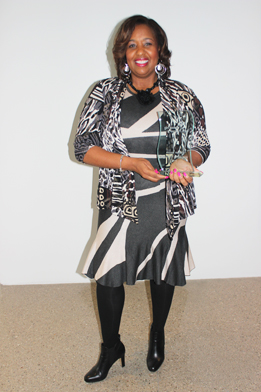 Rhonda Sewell
Before joining The Blade, Sewell worked for one year as a general assignment reporter at The Lansing State Journal, in Lansing, MI, while completing her senior year at Michigan State University (MSU). She received her B.A. in Journalism from Michigan State University in 1989.
She was hired at age 21 at the Toledo daily newspaper after attending the City University of London (via Michigan State University's Overseas Study Program) in 1988 where she completed graduate coursework in international journalism. Shortly after joining The Blade, Sewell was requested to represent the company as an international correspondent and was sent to England, Italy, France, Belgium, Switzerland, and The Netherlands.
Sewell's newspaper career was primarily in the Features department, where she served for a decade as The Blade's Fashion Writer and frequently traveled to New York to cover major fashion events, awards ceremonies, and conduct designer interviews with the likes of Donna Karan, Kenneth Cole, Yves Saint Laurent, Anna Wintour, and Marc Jacobs. She also worked as the American Fashion Correspondent for CLEO Magazine, a former publication based in Cairo, Egypt.
During her Blade career, Sewell interviewed countless prominent figures such as author Maya Angelou, singer Usher, the late Dana Reeve, Yves Saint Laurent, and many others. In the 1990s, she also served as a part-time instructor at Bowling Green State University (BGSU), where she taught a self-designed course titled, "Ethnic Groups and Mass Media." During her Blade career, she also served as a talk show host on Toledo's PBS station, WGTE PBS Channel 30, where she now volunteers as a program moderator to help introduce important segments and documentaries.
Sewell frequently served as a cohost on "The Editors," The Blade's former political and community TV talk show, and as an emcee for many Blade events.
Diana Patton

Diana Patton is a speaker, social justice and integrative health advocacy coach, author and attorney. She conducts life coaching for individuals who are in the "helping profession", which includes school counselors and social workers, on how to go into life's fire and not get burned (out). She speaks to and works with high schools, colleges and other "helping organizations," encouraging them to implement her newly developed RISE program. She also speaks to organizations on leadership, emotional intelligence, and diversity and inclusion topics.

In December 2015, she completed her full-time work as the VP/COO/General Counsel for the Toledo Fair Housing Center. Prior to assuming her role at the Toledo Fair Housing Center, she worked on staff at CedarCreek Church and directed various ministry teams. Before her roles at CedarCreek, she was an inspirational speaker, certified health coach and co-business owner of health-based company, FITatudes, LLC.
She was trained and certified as a health coach at the Institute of Integrative Nutrition (IIN) in Manhattan, New York. Prior to becoming a health coach and speaker, Patton held a number of law firm and high-level corporate positions, including global director-level positions at Fortune 500 companies (including Dana Corporation and Owens Corning). She has worked in the areas of contract procurement, purchasing and negotiation, litigation assistance, supplier diversity, corporate training and strategic planning.
She earned her bachelor and law degree at the University of Toledo. Patton serves on the University of Toledo College of Health and Human Services Board, to improve the human condition through meaningful community engagement, and also serves on the University of Toledo Paralegal Advisory Board. After completing a board position at the now closed Polly Fox Academy, a school for pregnant and parenting teens, she has begun working to develop an effective nationwide strategy for teen moms to complete their high school education, thrive, and be successful in life.