Toledo Fair Housing Center's 40th Anniversary Gala
Special to the Truth
The Toledo Fair Housing Center held their 40th Anniversary Gala and WGTE Toledo Stories Documentary Premiere April 23 at the Valentine Theatre.
Gustavo Velasquez, U.S. Department of Housing and Urban Development Assistant Secretary for Fair Housing and Equal Opportunity was the featured speaker for the event.
Cocktails and grazing stations were provided by Georgio's Cafe International, and guests enjoyed the world premiere of the WGTE Public Media documentary of Toledo's continued struggle for housing equality and a glimpse into what's to come for the organization.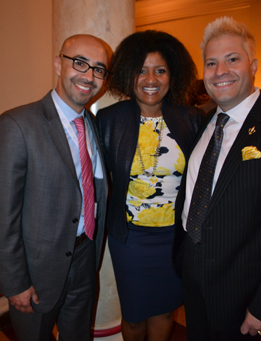 HUD Assistant Secretary Gustavo Velasquez, National FHA Exec. VP Lisa Rice, Toledo FHC Executive Director Michael Marsh
In 1975, the Fair Housing Center was founded on the principles of community, tolerance, and justice. It was a commitment to these principles that ignited the Women of the Old West End Neighborhood Association and several other concerned citizens and community groups to establish an organization that would combat discriminatory housing practices.
Over the past 40 years, the Center has carried out its mission through the investigation of over 11,500 complaints, resulting in awards of over $30 million for victims of discrimination. During this time, the Center has also demonstrated a talent for setting national precedents in the enforcement of fair housing laws and expanding housing opportunities for millions of Americans.
The Center conducts multiple educational outreach programs, provides housing and foreclosure prevention counseling services, advocates for the rights of victims, investigates and litigates allegations of housing discrimination. The Center's staff is one of the best in the country, and their achievements have been recognized at the local, state and national levels.
Members of the Center's staff have given presentations at conferences sponsored by the U.S. Department of Housing and Urban Development, the Ohio Civil Rights Commission, the Ohio Fair Housing Congress, the Federal Reserve Bank, the Center for Community Change, the Alliance of Allied Insurers, the National Association of REALTORS®,the Ohio Housing Finance Agency, and the National Fair Housing Alliance.