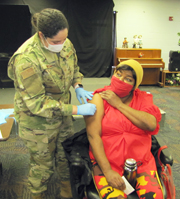 Area Office on Aging Helps Seniors Get Vaccinated
While the Area Office on Aging is not a vaccine clinic, the organization has been assisting the Toledo-Lucas County Health Department, the Ohio Department of Aging and the National Guard in getting older adults the vaccine. The agency's latest efforts have centered around getting the most vulnerable older adults living in senior apartment complexes the vaccine.
The Ohio Department of Aging Regional Rapid Response Assistance Program (R3AP) worked with the Area Office on Aging, Black and White Transportation of Toledo, the Toledo-Lucas County Health Department, and the Ohio National Guard to sponsor a Vaccine Clinic in the Ohio's senior community of Toledo on the 10th of February.
Last week, the clinic set up operations at the Northgate Senior Apartments to vaccinate 70 adults, at the UAW Local 12 headquarters for another 70 and at the Margaret Hunt Center to vaccinate 175.
"The Area Office on Aging is thrilled to be able to help 300 older adults with this important and potentially life-saving help," said Area Office on Aging President/CEO, Billie Johnson.
Major Jordan Hickey of the Ohio National Guard and 16 soldiers from the medical task force were deployed to the locations as part of what has become regular duty for them.
Since older adults have been able to start receiving vaccines, call volume has more than tripled due to calls about the vaccine. The Area Office on Aging increased their staffing capacity to be able to schedule these vaccine appointments.