Lincoln School Community Coalition Hosts Neighborhood Picnic
Sojourner's Truth Staff
The Lincoln School Community Coalition held their third annual Neighborhood Picnic on August 17 at the corner of Detroit and Lincoln featuring food, activities, bounce houses music and health services.
The main event at the picnic was the donation of 75 back packs to students in the neighborhood – the gift of Michael Colbert and Franklin Park Lincoln. Donors for the picnic included Councilmen Tyrone Riley, Larry Sykes, Gary Johnson; the Lucas County Sheriff; Congresswoman Marcy Kaptur and United Auto Workers.
Michele Walker is the president of the Lincoln School Community Coalition. Coalition members include Williams; Treasurer Charlotte Pryor-Martin; and advisors: Kenny Smith, Leo Tate, Riley, and Rev. James Willis. Residents who are interested in joining the coalition to plan future events are asked to contact St. Paul MBC, where regular meetings are held.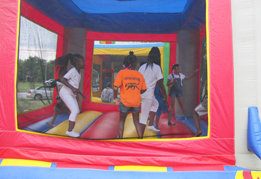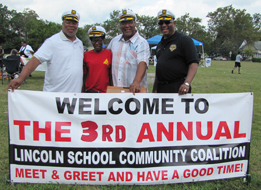 Councilman Tyrone Riley, Michele Williams,
Kenny Smith, Rev. James Willis