NAACP National Convention Notes
By Sasha Dailey
Special to The Truth
On July 23, the NAACP hosted Water as a Human Right Workshop during the organization's national convention in Detroit Michigan. Alicia Smith, Freshwater Future Associate Policy Director, described water contamination and quality for the Great Lakes Region as a guest for The Environment Climate Justice Panel.
Along with colleagues from Flint, Detroit, and other areas of the region, in a forum moderated by Mustafa Santiago Ali, Smith provided detailed information regarding harmful algal blooms (HABS) and lead and perchlorates (PFAS) contamination throughout the Great Lakes Region. Each panelist shared stories of Environmental and Climate Justice as it relates to infrastructure and public health.
"It is essential that we provide a toolkit of information, resources and communications to our communities regarding water toxins and climate resilience, Toledo experienced several days without water in 2014. Flint and Detroit are still suffering from lead, PFAS and water shutoffs that threaten the lives of all of our loves ones," said Smith
"The Rose that Grew from the Concrete needs Fresh water to Grow" (Tupac Shakur) a beautiful mural can be viewed on Junction and Dorr sponsored by Junction Coalition and painted by community artist Christopher Rodriguez, designed by our own David Ross of Toledo Art Museum, inspired by Junction Coalition Circles & Verses Youth (funded by Lucas County Juvenile Court).
Toxins are a national disaster, and it's important that we see movement in policies which address these complex issues. Smith went over issues pertaining to exactly what the danger in the water could do to you. The seriousness of this situation leads directly to brain degeneration and other health risks, Alzheimer's Disease, Lou Gehrig's Disease, and Parkinson's Disease.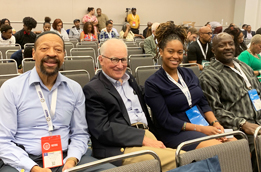 Toledo NAACP President Ray Wood,
Former Mayor Carty Finkbeiner,
Brittany Jones, Darryl Jones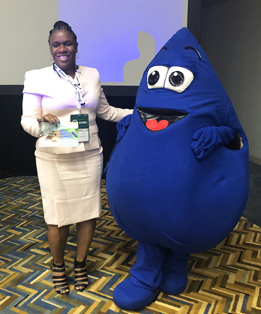 Alicia Smith

The toolbox to the issue is making the change, she emphasized. She stressed the importance of getting involved with community education, green infracture, green technology, civic ecology education, rural/ urban collaboration, policy education, and information sharing. Smith also addressed building relationships, overall partnerships with local state, regional, and federal/authorities.
During the panel discussion, a commitment to Act on Our Liberation and transformation now and after the climate crisis was made, which meant giving ourselves a chance to be a part of the change we want to see.