The Cotillion 54rd Annual Mother-Daughter Luncheon
Sojourner's Truth Staff
The Toledo Club of The National Association of Negro Business and Professional Women's Clubs, Inc, held its annual Mother-Daughter Luncheon on May 11 at the Inverness Country Club as part of its run-up to the 2019 Cotillion.
This year the Toledo Club is presenting 21 young debutantes to society on Saturday May 265 at the Stranahan and the Mother-Daughter Luncheon is a perennial prelude to the main event.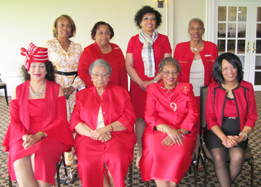 Seated Denise Black Poon, Wilma Brown, Frances Collins, PhD, Alexii Collins
Back Row: Denise Cardwell, Karen Jarrett, Sherry Reed, Deborah Carlisle
This past weekend, Cotillion Co-Chairman Karen Jarrett opened the event and served as mistress of ceremonies. Toledo Club President Frances Collins, PhD welcomed the debutantes and their mothers and after the preliminaries, lunch and a poem by Etiquette Chairman Denise Cardwell, all of the debutantes and their mothers, or guardians, were introduced and asked to describe their relationships.
After the tearful expressions of mutual love and gratitude, the young women were apprised of the next step in the Cotillion event – the talent show – by Talent Co-Chairmen Deborah Carlisle and Beverly Tucker.
Closing out the luncheon, Cotillion General Chairman Wilma Brown, who has helped to guide the event since the onset 54 years ago, addressed the attendees on some of the issues they will face this year.