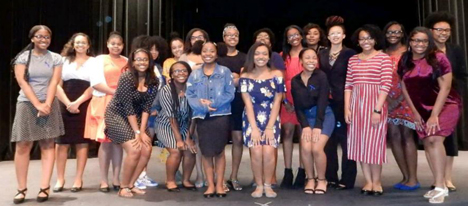 NANBPWC Toledo Club Talent Night
Special to The Truth
The Toledo Club of the National Association of Negro Business and Professional Women's Club Inc held its Creative Expressions Talent Competitions on Monday at Rogers High School , 222 McTique Drive , Toledo, Ohio at 6:00. Admission was Free and open to the public.
The 21 participants were senior Debutantes who are participating in the 2019 NANBPWC Cotillion Scholarship Program. The Deb's N Waiting and escorts also participated with props and set-up while serving as hosts and hostesses.
Talent show participants were high school students from the Toledo area schools who are seniors.
Their talents were:
Jordyn Faulkner - Science Experiment; Paris Sims- Praise Dance; Makenzie Cleveland - Violin Solo; Lauren Baker- Origibal Spoken Word; D"Asia Gover- Kata Boxing, Whitney Hudges- Vocal; Damiah Wade-Spoken Word; Taysia Mathis-Ballet; Cincere Blackburn -Original Spoken Word; Faith Rogers- Praise Dance; Choioe' Smallwood- vocal solo with American Sign Language; Sapphire Holston- Spoken Word; Jasmyne Brown- Spoken Word; Alexi Moore- Spoken Word; DeAsia Neal- Piana, Deviana Estis- Spoken Word; Kiyana Rome-Praise Dance; Kiara Gowdy- Spoken Word; K'Allie Riley -Praise Dance and Jasmine Fox- Spoken Word.
Debutantes and Deb's N Waiting wore blue ribbons and club members dressed in blue in honor of the fight against child abuse during the month of April.
Creative Talent Expressions Talent co-chairmen were Deborah Carlisle and Beverly Tucker. The Talent Committee consisted of Wilma Brown- Cotillion Chairman; Karen Jarrett; Dennis Jarrett; Denise Cardwell; Larry Cardwell; Frances Collins, PhD and Denise Black-Poon.
Winners of the talent show will be announced at the Debutantes Cotillion Scholarship Program that will be held on Saturday, May 26, 2019 at the Great Hall of the Stranahan Theatre , 4645 Heatherdowns Blvd.