Murder at the Carver High Reunion
Sojourner's Truth Staff
On November 18, the audience in attendance at the Mystique Dinner Shows production of Murder at the Carver High Reunion will have the opportunity, amongst the laughing, applauding, cheering and dancing, to solve the mystery of just whodunit and why was it done.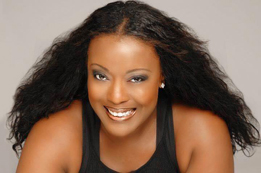 Angela Barrow Dunlap, Producer, Playwright, Actress.

It's been twenty years, and the Class of 1997 is looking forward to fun, music and memories at their alma mater, Carver High. Complete with fine dining, dessert and dancing, what they didn't
anticipate was a side of murder. Which one of these crazy classmates has a secret they'd kill for? After numerous sold-out performances in Detroit, the hit murder mystery, Murder at the Carver High Reunion, is heading to Toledo.
The hit, interactive dinner theater production, Murder at the Carver High Reunion, will be at the Aria Banquet Hall for one night presenting "outrageous personalities, twisted plots, scorching hot secrets and shameful suspects" according to the promotional material provided by the show's producers.
One of those producers, Angela Dunlap, will not be coming from too far away to bring the dinner theater extravaganza to Toledo. Dunlap, a Detroit native and resident, has been involved with theater ever since, as a very young girl, her mother entered her in a Little Miss Michigan talent show. As Dunlap recalls, she went home after the show upset that she had no talent to display. Her mother corrected that situation immediately by writing for young Angela a dramatic monologue.
"I won," says Dunlap. And an actress was born. The writer, producer, director would develop over time. Dunlap attended Southview Public Schools where she had the opportunity to receive extensive drama instruction, then on to Wayne State University, where she studied but briefly before leaving to go on the road with a professional show. It's a profession that has kept her active for 30 years now.
Over the last two decades, Dunlap has risen to the top of the African-American urban theater world s the creator and producer of multi-million dollar grossing stage plays such aa My Brother Marvin, It These Hips Could Talk, Why Do Good Girls Like Bad Boyz, Real Men Pray, Gossip Lies & Secrets, Church Girl, among others. If These Hips Could Talk was one of the longest-running shows in urban theater history – a two-year run starring some well-know Hollywood actors such as Billy Dee Williams, Robin Givens, Tichina Arnold, among other. It is currently being turned into a feature film.
Her current project, Murder, is one she's especially proud of. "It's the most fun you will ever have," she says. "We invite the audience to talk back and become part of the show. Each table becomes an investigative team and the cast members are on the stage, then in the audience."
Murder at the Carver High Reunion, starring actor/singer D'rtra Hicks (Black Tank) from Tyler Perry's Madea's Family Reunion, will be at the Aria Banquet Hall, 5969 Telegraph Road on Saturday, November 18, at 5 p.m. For ticket information, to enjoy an evening of theater, dinner and dancing, call 833-MYSHOWS or go online at www.mystiquedinnershows.com.