Local Black-owned Women Business Showcase
By Tricia Hall
Sojourner's Truth Reporter
In celebration of Black History Month, a showcase of five locally-owned businesses led by black women was held on February 25 at Fowl & Fodder in downtown Toledo.
Attendees sampled tasty cuisine from Island Soul Cuisine and Hotbox Bistro, which are both owned by black women, on the main floor of the facility. There was an additional opportunity to sample sweet deserts from Be Sweet Treats and Advocado & Cheese and to view art pieces created by Art by Cyd. Be Sweet Treats is owned by Chanell Phenix, Advocado & Cheese is owned by Alisa Gafeney, Art by Cyd is owned by Cydnee Moore, Island Soul Cuisine is owned by Mikhala Bagot and Hotbox Bistro is owned by Keitha Sheares.
"I had a great time. The food was great and so was the company," explained Marshina Jones, attendee
The event was organized by HerHub, a Women of Toledo Initiative that serves as an online resource for women that want to expand the reach of their business. The mission of HerHub is to connect women, resources, businesses and organizations through an online hub that will expand her reach. HerHub is not another group, program, event or organization but an initiative that curates a connection and collaboration among others. For more information about this initiative, visit www.419herhub.org.
The event also featured advertisement for locally women-operated black-owned businesses that are associated with HerHub: Art Restoration & Construction, Elite Karate Fitness & Wellness, HotBox Bistro, Mitchell Dermatology, Toledo J'Dog Junk Removal, Advocado & Cheese, Fearfully & Wonderfully Made, Simply D'Vine Boutique, Five Star Quality Cleaning, Shakhan Kelly Photography, The Ronald Group, Synergy Engagement, Diana Patton Consulting, Be Sweet Treats, Janelle Massey, Nurse Education Solutions, Matching Peace, Art by Cyd and Island Soul Cuisine.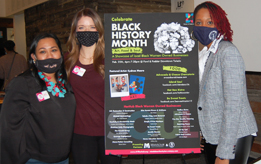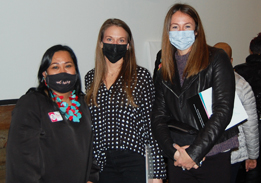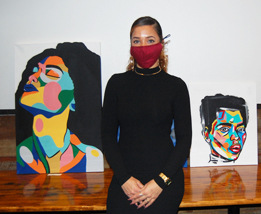 Art by Cyd's Cydnee Moore


Avocado & Cheese's Alisa Gafeney



Be Sweet Treats' Chanell Phenix



Island Soul Cuisine's Mikhala Bagot and Hotbox Bistro's Keitha Sheares