Early Voting off to Strong Start in Lucas County
Early voting for this 2020 general election started on Tuesday, October 6 and hundreds of voters waited in line hours at the Lucas County Early Vote Center on that first day. For the rest of the week, there always seemed to be a line winding out of the Center and around the building onto 15th Street.
The COVID-19 pandemic did not keep the thousands of voters from exercising their right to cast a ballot early in the process.
The Center expanded operations this election cycle into the next door OhioMeansJobs building and added plastic barriers and floor markers to keep voters isolated from each other.
The Board of elections has also made it easy for voters to make their selections with actually touching the machines, offering each voter a stylus or plastic gloves.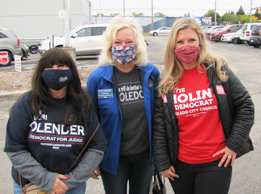 Candidates Lori Olender - for judge, Lisa Sobecki - for state rep., Katie Moline - for council on opening day at the Early Vote Center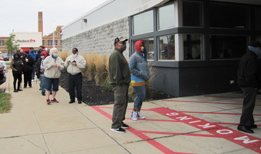 Poll workers are still being sought.
Early voting hours are: October 12-16 – 8 am to 5 pm; October 19-23 – 8 am to 6 pm; October 24 – 6 am to 4 pm; October 25 – 1 to 5 pm; October 26-30 – 8 am to 7 pm; October 31 – 8 am to 4 pm; November 1 – 1 to 5 pm; November 2 – 8 am to 2 pm.
Mailed absentee ballots must be postmarked by November 2 and voters are able to drop off absentee ballots at the Lucas County Board of Elections at One Government Center.
The Board of Elections is still looking for more workers especially to help process the influx of absentee ballots. Residents can apply to become Precinct Election Officials using an application on the county website.