A Raisin in the Sun – The Next Two Weekends at Toledo Repertory
A Raisin in the Sun, a play by Lorraine Hansberry that debuted on Broadway in 1959, is coming to Toledo this weekend. The play's title comes from the poem "Harlem" (also known as "A Dream Deferred") by Langston Hughes. The story tells of a black family's experiences in south Chicago, as they attempt to improve their financial circumstances with an insurance payout following the death of the father. The New York Drama Critics' Circle named it the best play of 1959.
Walter and Ruth Younger, their son Travis, along with Walter's mother Lena (Mama) and Walter's sister Beneatha, live in poverty in a dilapidated two-bedroom apartment on Chicago's south side. Walter is barely making a living as a limousine driver. Walter desperately wishes to become wealthy. His plan is to invest in a liquor store in partnership with Willy and Bobo, his street-smart acquaintances.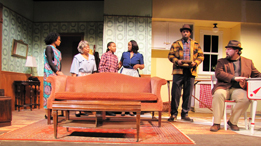 Beneatha, Mama, Travis and Ruth listen
as Walter discusses the family's plans
with Lindner

Beneatha is in school and has plans to become a doctor and Mama just wants to move her family out of their crowded apartment into a house with the money from the insurance payout – a house in an all-white neighborhood.
A Raisin in the Sun runs from February 28-March 8, 2020 Thursday, Friday and Saturday at 8 p.m. Sunday at 2:30 p.m. at the Toledo Repertory Theatre.
The play is directed by Irina Zaurov, who directed a truly wonderful version of August Wilson's Fences last year at the Toledo Rep.
The cast includes Liam Ellis as Walter Lee Younger; Kimberly "Miss Pinctoes" Kane as Mama; Lisa Renee Miller as Ruth Younger; Sabriyah Davis as Beneatha Younger; George Johnson as Asagai; Derrel Stephens as George Murchison; Kantrell Cameron as Bobo; Tristan Tobias Manahan as Travis Younger and J. Heath Huber as Karl Lindner

Tickets are $20.00 for adults; $18 for seniors and $10 for students/children. For ticket info: www.toledorep.org or call (419)243-9277