Rogers 1977 Undefeated Girls Track Team Added to School's Hall of Fame
Sojourner's Truth Staff
In 1977, the Rogers High School Girls' Track Team won it all. They won every invitational, every dual track meet and every competition leading to the AAA State Championship. Then they won the championship itself, earning the first state title for Rogers High School in any sport.
Seven members of the team went to the state meet – seniors Jane Guilford and Karen Lebens; junior Robin Wilson; sophomores Cindy Davis and Yolanda Johnson and freshmen Sheila Gibson and Sherri Perry – under the guidance of Coaches Bev and Ron Martin.
This year, the team was finally recognized by the school and inducted into the Hall of Fame, along with Alvin Stephens II, football and wrestling coach; Kelli (McCarthy) Ratcliffe, class of 1985, for volleyball and basketball; Larry Olszewki, class of 1965, for football; Rashod Johnson, class of 1994, for basketball and Byron Rhodes, class of 1967 for wrestling.
For senior Guilford, the 1977 was the capstone to a brilliant high school career – she would later be inducted as an individual into the Rogers Hall of Fame and the City of Toledo Hall of Fame.
However, for freshman Gibson, the 1977 championship was just the beginning of her stellar athletic accomplishments. Gibson, and teammates, won the 1600-meter relay championship at the state meet again in her senior year after earning runner-up trophies in her sophomore and junior years.
Gibson anchored that 1980 relay team, joined in the first three legs by Sherri Perry, Mary Butler and Celena Wiliams – their time of 3:55.8 broke the state record and was held for more than 10 years. As an individual and as a team member, she never loss in dual or invitational meets or in district or sectional meets.



The 1977 State Champions Women's Track team with Coach Bev and Ron Martin


Sherri Perry Sheila Gibson


Stan Joplin and his wife who was a member of the 1977 State Champion Track Team pictured along with Rogers Hall of Fame and Western Michigan Hall of Famer Kenny Cunningham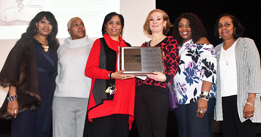 Gibson was a city champion in seven different events over the course of her four-year high school career.
She went on to Bowling Green State University on a four-year track scholarship and later competed on the European tour where she blended her love of dancing, modeling and athletics. Gibson continued her love of dancing and become an acclaimed choreographer. She is the artistic director of Positive Force Cristian School of Dance here in Toledo.
Of all those adventures, the ones she speaks of most fondly are the ones she had with her Rogers teammates and coaches.
"We were like a small community, like a family – we considered ourselves to be sisters," she recalls. And the parents – at least when they were away from home – were the Martins, their coaches. Their "track parents."
"We were like their daughters – they taught us humility, compassion and respect. It was an honor to be on that team back then."
Like Guilford, Gibson also has been inducted as an individual into the Rogers Hall of Fame (2004) and the City Hall of Fame (2016). This spring she is scheduled to be inducted into the African American Legacy Projects Sports Hall of Fame.
In addition to the 1977 seven state championship team members, an additional three team members, 10 in all, participated in the City League Championships – Janet Bade, Karen Stephens and Pam Wise – and were crowned champions in the 12-team league meet. In addition to those 10, Kim Penn, Katrina Coleman and Chris Dunbar were part of the Rams Relays Champions.