TPS Public Housing Students Will Be Receiving Computers and Internet Access
Sojourner's Truth Staff
Thanks to a partnership between the Lucas County Metropolitan Housing Authority and the U.S. Department of Housing and Urban Development (HUD), 150 Toledo Public Schools students will soon be receiving computers and internet access to "help them to get the grades they need to succeed," said Joanna White, Jones Leadership Academy PTO president and the parent of a student receiving a computer.
White thanked those in the partnership and the other organizations donating supplies and effort during an announcement on Thursday, October 3 at Jones Leadership Academy.
Under the guidance of "Bridging the Gap," computers are being donated by PCs to People while Mobile Beacon is setting up the internet hot spots. Bridging the Gap is a national digital inclusion program that recently moved into the Cleveland area and "empowers community organizations," said Daniel Valentin, regional sales executive from Cleveland, where the program, he said, has already provided 7,000 individuals with computers in order "to close the homework gap."
"We had an opportunity to help," said Coleena Ali, LMHA vice president of Resident Services. "HUD and LMHA are really coming together and providing something for our community."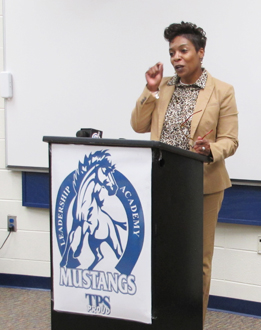 LMHA CEO Demetria Simpson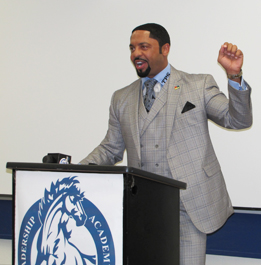 Romules Durant, EdD,
The HUD program is Connect Home USA and is intended to bridge the digital gap in the USA, said Pamela Ashby, HUD Field Office director. "At HUD, we are about housing people, but we are more than about brick and mortar," she said adding that and one in five US students do not have access to the internet.
That divide, said Demetria Simpson, president and CEO of LMHA, is being closed through the new program. "We get to bridge the gap through Connect Home."
Romules Durant, EdD, superintendent of TPS also praised the "great partnership" between LMHA and TPS that is now "greater than at any other time." The TPS students in the program, Durant said, "are seeing themselves elevated through technology."
Vivian Crawford, LMHA assistant manager of Resident Services, was the housing authority's driving force in putting the program together – connecting HUD with LMHA and brining Bridging the Gap on board. "Our goal is to make sure that every child in public housing has access to computers and the internet," said Crawford.