FREEDOM OF SPEECH Poetry Slam Brings Talented Spoken Word Artists
By L.J. Hamilton
Special to The Truth
On Friday, July 5th spoken word artists from Toledo, Ohio and abroad made their way to The Truth Art Gallery to speak their minds and express their truths on a competitive stage where the winner walked away with $300 cash!

The 'FREEDOM OF SPEECH Poetry Slam' featured a diverse group of artists who recited their work in an uncensored, no holds barred fashion that amazed the audience and left them longing for more.
Hosted by award-winning author, spoken word artist and slam champion L.J. Hamilton, this event proved to be a success not just because of the numbers in attendancebut also because of the messages that were shared and surely impacted lives beyond Friday evening.
National comedic legend, event planner, and event host Keith Cook, award-winning and Emmy-nominated spoken word artist, teacher,
and sports broadcaster John Gibson (aka JG The Juggernaut), and former BGSU football star Abasi Thomas were the judges who took on the challenge of scoring this fierce literary battle, where the winner would be determined
by which artist accumulated the most points after three competitive rounds.

First to perform was Caroline Dziubek of Toledo, Ohio. This young lady's passion could be heard in her words. Her voice flowed over her words smoothly and her literary poise was impressive just as her work was insightful.
Following Caroline was Native Brown Child of Detroit, Michigan. Her words along with her voice were powerful, making an impact as soon as she began to speak. Afterwards, Adam Spells of Cleveland, Ohio gave a phenomenal and soul-stirring performance that left the audience in awe of his poetic prowess.
Davion Desean of Toledo, Ohio followed Spells with a rhythmic and poetic flow that expressed wisdom and truth far beyond his age. Thursday Angel of Cleveland, Ohio was the fifth artist to perform and she did so with style, grace, and floetic mastery. Her voice was sharp and her words were piercing.
Spoken Truth was the final artist to perform, and in signature fashion he used his strong voice to recite a ferociously powerful piece.
After three rounds that demanded the best out of each artist with every performance, Native Brown Child of Detroit, Michigan walked away victorious.

L. to R. Caroline Dziubek, Davion Desean, Jodie L. Summers (Spoken Truth), Adam Spells, Thursday Angel, Native Child Brown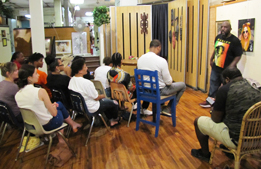 L.J. Hamilton introduces artists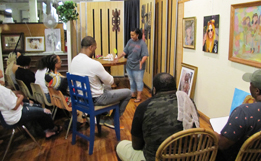 Native Brown Child performs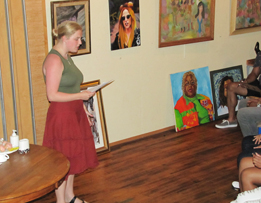 Caroline Dziubek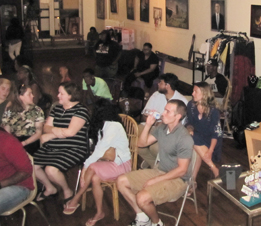 The audience was left inspired. They gave each artist the energy they needed to speak truth with a power that made for a memorable night. Although the audience disagreed with some of the scores the judges gave, the scoring was fair and consistent and the dreaded score creep, which plagues slam competitions often, was not a factor in determining the outcome of this event.

This was the first of several upcoming slam competitions that will be held at The Truth Art Gallery and hosted by L.J. Hamilton. Hamilton has been hosting events for over 10 years and performing competitively for almost 20 years. He's also a published author and empowerment speaker who can be reached at ljhamilton@ljhamilton.com or you can check out www.ljhamilton.com for booking information and to shop available products.

Caroline Dziubek is a fresh talent on the rise and a poet to keep your eye on and ears open for. She can be followed on all social media platforms under her name.

Native Child Brown is working on a spoken word EP titled "The Miseducation of Pocahontas" with a release date set for September 2019. She will be at IWPS (Individual World Poetry Slam) in San Diego in September representing the Colorful Women Slam Series. Native Child Brown has been writing since she could hold a pen and has been slamming for the past eight years. She's currently putting together a mini tour for the fall, dates/ locations TBD. She's also a licensed mental health therapist, working on a certification in poetry therapy, and can be followed on all social media platforms under her name.

Adam Spells has a book out titled "Dear God" available on Amazon and Essencebookstore.com. He can be contacted online by logging on to www.adamspells.com or on Facebook under Adam Spells Poetry. He also has a YouTube Channel with videos featuring motivational speaking engagements at John Carroll University. You can see him next in the Cincinnati Artsville Slam Competition on July 13 and then a Music to Poetry Showcase in Cleveland on July 27. He's been writing since he was a child and started sharing and competing in October 2018. He can also be followed on Instagram @Slimpoetic13.

Davion Desean has been writing since the age of 11. He's currently working on an EP and performing on August 2nd at the Harvest Open Mic on Central Avenue (Toledo, Ohio).

Thursday Angel is a powerhouse performance poet that can be followed on all social media platforms under her name.

Spoken Truth is not only a spoken word artist but also an author, illustrator, community organizer, and activist who can be followed on all social media platforms under the name Jodie L. Summers.

All of these artists are on the rise! They are ones to look for when you're wanting to attend events that feature spoken word poetry on a local and national stage. We hope to see you at our next event that is sure to be just as phenomenal!