NANBPWC Toledo Club Social Media Workshop

The National Association of Negro Business and Professional Women's Club Inc.- Toledo Club (NANBPWC) presented a workshop on "Social Media " on Wednesday, February 20, 2019 at Keyser Elementary School at 6:00 p.m. This workshop was a series of educational presentations for students who are participating in the Debutante Cotillion Scholarship Program for Debutantes, Deb's N Waiting and escorts.
The workshop presenter was Alisha Durham , NANBPWC - Maumee Bay Club member. Durham focused on getting a clear message to the high school students on why social media affects everything you do, both good and bad, and how your decisions today can affect you in the future.
The students were able to work hands-on to see the impact of words, pictures, historical documentation, privacy and more and see some of the positive and negative effects of Messenger, Instagram, Facebook, Google etc.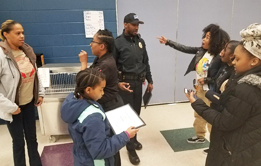 The students were asked to "THINK" about the content –is it true, is it inspiring, helpful, necessary or kind?
She asked everyone to be safe online during an open discussion and brought awareness of viruses, trojans, worms, passwords, recording, identity theft, different websites.etc.
Over 80 students and adults truly appreciated the workshop and the interactive feedback.
Cotillion committee members Wilma Brown, chairman; Denise Cardwell and Karen Jarrett, co -chairmen and Denise Black-Poon,1st VP and program chairman were adult participants who supported the importance of the social media workshop as well as Larry Cardwell and Dennis Jarrett. Youth Club 1st Vice President Jada Collins was also in attendance. The workshop series lasts weekly from January through May.
As a former educator, Frances Collins, PhD, Toledo Club president, supports the NANBPW Cotillion Scholarship Workshop Series because the series brings awareness on other topics as well such as: etiquette, how to be a gentleman, safe encounters with the police, physical fitness, mother daughter relationships, human trafficking, etc.