Alpha Fraternity's Annual MLK Scholarship Breakfast
By Tricia Hall
Sojourner's Truth Reporter
Gold and black centerpieces and decorations welcomed over 500 attendees to the annual Alpha Xi Lambda Chapter of Alpha Phi Alpha Fraternity, Inc. brunch. The fresh snowfall didn't keep attendees away from this 27th occasion which was held on Saturday, January 19 at The Pinnacle in Maumee.
"We're excited to continue this legacy and give back to our city. To date, over 100 young men have received over $157,000 in scholarships. We're also launching a city-wide mentoring program, called Alpha Esquire, in response to the need in our community. This will be open to young men," said Brandon Tucker, chapter president.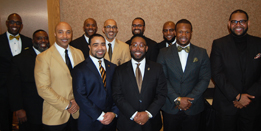 Alpha Officers and Keynote Speaker Maurice Stinnett, PhD

Scholarship recipients - Justin Barnes, Chase Dupree, Anthony Ellis, AdariusJohnson, Kaleb Johnson, Jalil Mitchell and Patrick Taylor
The 2019 Drum Major for Justice Award honoree was Helen Cooks, PhD. She is founder and supporter of University of Toledo EXCEL program which has provided scholarship incentives to high school students to attend the University of Toledo. "This is one of my mountain top experiences in my life," said Cooks," as she received a standing ovation. The Toledo EXCEL program has been providing such scholarships for well over three decades.
Kristian Brown of 13abc served as the event's mistress of ceremonies, while Alpha members Darnell Ishmael serenaded the audience twice and David Young, the current director of Toledo EXCEL, delivered the invocation and benediction.
In addition to ticket sales, the event was supported by the following sponsors: Ohio Council of Community Schools; King Campion partner; LIUNA Laborer's Local 500; Owens Corning; University of Toledo College of Pharmacy; Jewel Legacy Partners; African American Leadership Council of United Way; Brothers United; Columbia Gas Ohio; Dave White Chevrolet Acura; First Federal Bank; KeyBank; Lucas County Metropolitan Housing Authority; Mercy Health Partners; Mitchell Dermatology & Mitchell Law, LLC; Toledo Lucas County Port Authority; Toledo Museum of Art and University of Toledo Office of Diversity and Inclusion; Gold Sustainer Partners and a host of supporters and partners.
"I personally want to thank all the sponsors and attendees," explained John Jones, event chairman.