NAACP - The Struggle Continues
The Negro Holocaust - Lynching and Race in America - Part 2:
By Lunette Howell and Betty Valentine, NAACP Editorial Team
Guest Column
As we continue to address the subject of lynching, past and present, we must first acknowledge the fact that, even though times, methods and people are different, the threats and consequences can have the same fatal outcome today. Trayvon Martin, Tamir Rice and Michael Brown are no longer with us – the outcome is still the same – death with no consequences for the murderers.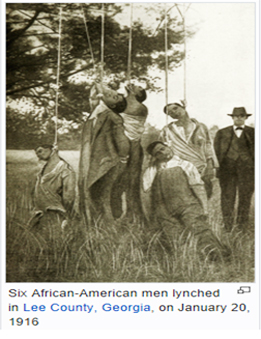 THE WACO HORROR
On May 8, 1916, Jesse Washington, a boy of s17, of deficient mentality, raped and murdered the wife of his employer. On May 15 he was tried in Waco, Texas, and condemned to hang that same afternoon. With the connivance of Sheriff Fleming and without protest from Judge Munroe, the mob took the prisoner from the courtroom to the square under the mayor's window, where cameras were set up to take photographs.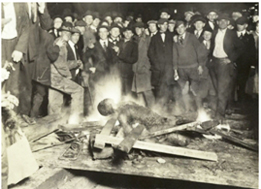 Fifteen thousand Texans shouted their approval while those near enough unsexed him; cut off his fingers, nose, and ears; and burned him alive; after which the remains were dragged through the streets of a city of 40,000, bouncing at the end of a lariat. The teeth brought five dollars each, and the links of the chain 25 cents.
FIVE FOR A HOG
On August 18, 1916, the sheriff went from Gainesville, Florida, at two o'clock in the morning to arrest Boisy Long for hog stealing. Boisy shot the sheriff and escaped. In retribution next morning, the mob hanged Boisy's wife, Stella Long; Mary Dennis (pregnant), James Dennis, and Bert Dennis (neighbors); and Josh Baskin, a colored preacher – all to the same "Dogwood Tree." As an expression of white supremacy.
TOLEDO CONNECTION
Many people think that lynchings happened in the distant past, but that is far from the truth. Many people who migrated to the North during the Great Migration, 1915 – 1960, and their descendants still feel the pain created when a family member was lynched. One such local family still bares the pain of losing a family member. In August of 1926 the grandfather of George W. Hayes and great-grandfather of Brandi Quinn was lynched in Virginia.
As a young man George often had discussions with his mother, Ms. Hazel Beatrice Hayes, about her past. She told him that at the age of two or three her father was lynched by a mob in Virginia. Although she was too young to remember details, the information was not difficult to find as Byrd's lynching made headlines across the country in publications such as Time magazine, The New York Times, The Virginian-Pilot, and others. Between 1877 and 1926, more than 90 people were lynched in Virginia. The grisly murder of Raymond Byrd is historic because it was the last recorded lynching in Virginia.
The date was August 15, 1926, in Wytheville, Virginia when 31-year old Raymond Byrd was lynched for assaulting a white girl, the daughter of Grover Grubbs a local farmer for whom Byrd worked. Byrd was a native of Speedwell in Wythe County. He was married to Tennessee Hawkins, a black woman, and had three daughters, Edith, Lillian and Hazel. After serving in World War I, Byrd went to work as a farmhand for Grover Grubb.
On July 23, 1926, Minnie Grubb, Grover's daughter, gave birth to a biracial daughter. Grover immediately accused Raymond of raping his daughter. Minnie vehemently denied she was raped and insisted that the sex was consensual. However, even if consensual, sex between blacks and whites was illegal. On August 10, 1926, Byrd was imprisoned in the Wytheville jail for assault.
Early on the morning of August 15 a masked mob of about 50 men entered the jail and quickly located Raymond. They shot him in his cell. The mob then took Byrd's body and tied it to an automobile and dragged it for 12 miles to the scene of the alleged crime where they hanged his body to a tree.
A special grand jury was empaneled in Wytheville to investigate the lynching of Raymond Byrd. Many witnesses were questioned and it took some time before they got the name of one individual to arrest. On September 6, 1926, Herbert Huddle was arrested in Bluefield in connection with the lynching, as his initials were carved in the tree where Byrd was hanged (Harrisonburg Daily News Record) but was later released (Danville Bee). On September 9th, Governor Byrd offered a $1,000 reward for the arrest and conviction of any other member of the mob responsible for the lynching of Raymond Byrd (Harrisonburg Daily News Record). On January 13, 1927, the special grand jury indicted Floyd Willard for the killing of Raymond Byrd; no other member of the mob was indicted (Danville Bee). However, in September 1926, Willard was acquitted, the jury returning its verdict after ten minutes of deliberation (Danville Bee).
Raymond is one of the 4,400 lynching victims who will be recognized as part of the new museum in Montgomery Alabama