Yet the former AFSCME executive committee leader refused to be silent, continuing to step up and not back and standing when asked to sit down, while negotiating union contracts with the City of Toledo for her members.
After retiring from the city and thus required to give up her position with AFSCME, a union official suggested that Brown run for city council. Serving, (along with June Boyd) as one of the first African-American women on city council, Brown spent eight years there followed by nine years in the Ohio House and eight in the Senate.
Characterized by some as a person who ďhas earned respect and demands respect,Ē Brown leaves a legacy of courage and many other lasting effects via her pioneering work with AFSCME, Toledo City Council, community development and in the Ohio General Assembly.
I caught up with Senator Brown to reflect upon her ďrock-solidĒ career as an elected official.
Perryman: What differentiates Edna Brown from other elected officials?
Brown: Well, this is what I see in myself and probably anyone else who has a passion for this kind of work. You look at your own upbringing, background and experiences and you empathize with other people who may have fallen onto hard times or have a need for something, and you find yourself reaching out. And I believe much of what I have done in - I am going to call this my second career - was shaped by the positions I held with the City of Toledo, and not necessarily what the titles were, but because of the actual experiences.
And it was always people calling in and I would have to research or come up with an answer or refer them to where they could get an answer and I always felt that you should never give people another phone number to call or say that this is not the department that handles that. I always felt that you should do the best you could to come up with a solution to their problem or at least put them in touch with someone who could come up with a solution to their problem. And that has followed me throughout.
Perryman: What are you most proud of in your time in Columbus?
Brown: Iím most proud of the fact that I met so many dedicated statesmen and colleagues who were genuinely interested in serving the people of the State of Ohio. I met many on both sides of the aisle, who were not so much interested in feathering their own nest, but really in reaching out and helping others and looking out for the well-being of all the citizens of the state.
Perryman: You and I have talked in the past about the long and tedious commute between Toledo and Columbus, however can you paint a picture of the actual experience of serving as a legislator in Columbus?
Brown: The difference between Toledo and Columbus, is like two different worlds. Columbus isÖand I donít want to paint a negative picture of Toledo because I love Toledo and Toledo is the perfect place to raise a family. But Columbus has that big city feel. It is the center of government for the State of Ohio. Itís where everything happens. You have all walks of life. You have the big university and there are many experiences that you can have in Columbus that you cannot have in a city like Toledo.
But when it comes to when comparing my experience in driving from Toledo to Columbus for the Senate position and when I was in the House of Representatives for nine years, that is a very, very lonely drive. But once youíre in Columbus, itís a whole Ďnother experience, but I have heard many people say serving there takes a toll on their family. I was fortunate or unfortunate, depending on how you look at it, my husband passed way while I was on city council, so by the time I was appointed to the position in Columbus, I was a widow, so I did not have that disconnect with my family that many people have. So there was no strain on my family, my children were grown and out of the house.
Perryman: Of the things you championed in Columbus, what are you most proud of?
Brown: Iím most proud of a couple of things. My very first bill, called Shynerraís Law, was one I was very proud to get done because it did something for our young people who had no way of getting, shall we say, the proper attention to problems of teenage domestic violence and abuse. We had several teenage young ladies actually murdered by their boyfriends whoíd tried to get some help from the courts, but there was no avenue to do that.
Another thing Iím very proud of, even though my name is not listed as the primary sponsor, was for the no excuse absentee voting legislation. I put that idea in a bill and although it didnít pass we were able to get it incorporated into another bill that did pass, so I do take credit for it and so Iím very proud of that. I also brought attention to some other things that are going to pass eventually such as PTSD protection benefits for first responders
Perryman: Why arenít more young people involved, particularly in Toledo, in running for elected office?
Brown: The salary is not that great for the local positions where most people need to begin. Unless young people are still living home with parents or if they happen to be a young person married to someone with a job that is sufficient to support them and a young family, then they cannot afford to run for public office, but I wish more of them would get involved.
Perryman: You have a reputation of being gentle but very tough, and that one does not ďmess withĒ Edna Brown. What do you think about that?
Brown: Well, I kind of like it, depending on whose mouth it comes from.
I donít like controversy but I am serious and I try to be gentle. You will not find me using profanity or being loud and boisterous or anything like that, but I will stand my ground, and Iím using that term because the Ohio Legislature will get (Stand Your Ground) bill next week, on issues that Iím passionate about. And I will not give on issues that Iím passionate about.
Perryman: You have been a very powerful figure in Columbus and very few people with power are able to wield it both justly and effectively. Yet you have the reputation of understanding how to handle power respectfully but forcefully. That is not an easy feat.
Brown: I think some of that perhaps goes back even before I got into the political arena. As I said, when I worked for the City of Toledo, I learned that if you want something or you want to accomplish something, you go to someone who can give you what you want or help you to accomplish what you want. And so I used that and when I first was elected to city council, I was able to use my relationships, shall we say, with the directors and commissioners and managers with whom I had worked before I retired. I was able to pick up the telephone and speak to them one-on-one and ask questions and get answers to things I wanted without making a big show of it.
So that served me well, not only when I was on city council, but also once I was in Columbus. As they say, you can catch more bees with honey than vinegar. So sometimes itís better not to make a loud noise, but try to quietly get things done. But then on the other hand, once in a while you find the only way you can get attention for something that is important to you is to issue a press release, and I learned how to do that in a way that I donít believe ever hurt my reputation.
Perryman: Do you have any regrets?
Brown: None whatsoever. I have absolutely no regrets. I will admit Iíve gone farther than I ever dreamed I would, but I have had experiences that I shall never forget.
Perryman: Whatís next for Edna Brown?
Brown: Right now, what I plan to do is just kind of come home, relax and Iíve got a couple of younger grandbabies and one great-grand and Iím going to enjoy them before they grow up on me. Going to try and play a little golf. Iíve always loved to travel, so I may do a little bit of travelling, but immediately I am going to relax, at least until the weather gets warm, and then I may do some volunteer work for some agency or other, but Iím not looking for another 9-5 and Iím not looking for another paid position.
Perryman: Well, you certainly deserve the time to relax.
Brown: Yes, and I do plan to, but I do think that there is somebody somewhere who would not mind having me give some free time to them here and there. Iím just so thankful and I feel so very, very blessed to have been able to take advantage of the various opportunities that came my way. Not many people can say that.
Perryman: Thank you so much for your time and your service.
Contact Rev. Donald Perryman, D.Min, at
drdlperryman@centerofhopebaptist.org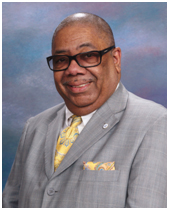 Rev. Donald L. Perryman, D.Min.